Stick War: Legacy is a mobile game by Max Games Studios, that is available on iTunes and Google Play. The Alpha was released for download on October 30, 2015.
Stick War: Legacy, according to the hints posted on Stick Wars Universe, is a spinoff of the original game, Stick War. A few control differences are obviously gonna be there, as well as slightly better graphics, but the overall gameplay and story will be retained.
Stick War: Legacy has multiple save profiles, visual upgrades with the armory as well as a gem store for powerful spells.
Click here to go to the Stick War: Legacy Alpha Community Google+.
Click here to install the Android Alpha.
Click here to open the game's page on the app store.
Modes
Normal
The normal mode based off the original Stick War.
"The Crown of Inamorta" tournament
"The Crown of Inamorta" tournament mode or simply tournament mode is an upcoming mode announced 2016 March. There will be several AI players to play against. Each character has varying difficulties abilities and skills. Some of the better players will even control individual units and try to target down your back row units. This will add a ton of replayability and each tournament will a new random order of character and levels.[1]
Art in the announcement post:
Gem shop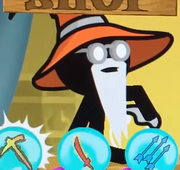 There is a gem shop for powerful spells, there you are able to buy things with gems or unknown currency represented by a pickaxe, which is not released yet.
The shopkeeper looks like a magikill (Wears the hat and has a beard too), but with a orange wizard hat instead and with glasses. A person like him teaches you how to play the game, but he is without glasses. It is most likely he is the same person.
You can earn gems by watching a 15 seconds video ad for 1 gem, you can do this infinite times. You can also buy gems.
| Image | Name | Description | Price | Price |
| --- | --- | --- | --- | --- |
| | Miner Gold Rush | Miners work 2 times faster for 30 seconds. | 5 | |
| | Swordwrath Rage | Swordwrath attack speed is doubled for 20 seconds. | 10 | |
| | Archidon Rain | Archidons send a volley of non stop arrows for 20 seconds. | 15 | |
| | Spearton Madness | Speartons throw their spears and do double damage for 20 seconds. | 25 | |
| | Statue Turret | Your statue doubles its health and throws magical fireballs at your enemies. | 50 | |
| | Golden Spearton | The legendary golden spearton is summoned from the ranks of the Order Army. Is there no one else! | 100 | |
| | Summon the Elite | Summons an elite mercenary army from the planes of West Wind. | 400 | |
| | Summon Griffon the Great | Summon Griffon the Great, the leader of all giants from the depths of No Man's Land. | 1000 | |
Armory
Updates
0.95
Statue income upgrade now works
Fixed No Man's Land statue
Fixed UI bug in Armory
0.94
Fixed archer accuracy bug
No Man's Land statue changed
Statue Income now increased to an initial 20 gold per 10 seconds
Graphics updates in the UI
Gallery
References